Privacy. We all want it, especially for our families, for those things or people close to us that we really don't want to share "with the rest of the world." At the same time, we also are biologically and psychologically programmed to connect with other people. It is this connection which helps to give life its meaning and our lives validation.
In this techno-digital-smart age, we all balance those two goals as we walk across the tightrope of life. But, where do we draw the line? What do we share and who do we share it with? Especially since our worlds have gotten smaller with 24/7 media access to, literally, the rest of the world.
What about our kids? Those annoying, rule-challenging, energy-laden bundles of joy who manipulate our lives and consume our love, in a good way, of course.
As a parent, I face that dilemma almost daily. I want to document and record my boy's growth and development for me, for them and for our families and friends, some of whom are not very close in proximity.   Then there's Mama Bear who is sometimes more protective than I am.
Welcome to Tinybeans
Tinybeans is a wonderful parenting network that is invite only and private, allowing parents to share the amazing moments of their children's life with family members no matter where they live.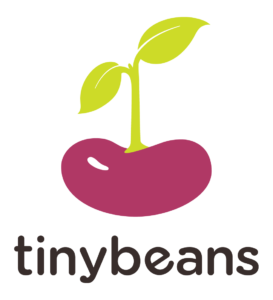 Tinybeans is the safer way to share with just family and close friends whilst keeping on top your kids' developmental milestones. Tinybeans was founded in 2012 in Sydney, Australia by Stephen O'Young, Sarah-Jane Kurtini and Eddie Geller. As parents themselves, they realized there was no easy or secure way to share their children's lives with the people who matter.
Now over a million people trust Tinybeans with their precious memories.
My Story
Almost nine years ago, two miracles came into our lives, only one minute apart, what I affectionately call the Gang of Two, Archibald and Mortimer (not their real names). You see if you were seeing this on Tinybeans, I would say, and you would know, their real names. But, in a public domain, otherwise known as the Internet, Mama Bear and I choose to keep their names and locations a secret. But, I digress.
Taking pictures was easy. I had bought a camcorder just to record those special moments we wanted to remember, share and, eventually, blackmail the boys into obedience and submission with.
Of course, it was easier said than done because sometimes the moments are so spontaneous, having the camera close by was not always convenient.
Nevertheless, I persevered. I took approximately 3000 pics and 572 videos in the first year alone. Keep in mind, that I don't have that quantity of photos for myself, for my entire life and that's TIMES 10!
Social media was still in its infancy. Which is just as well because Daddy lacked the time and energy to post on it anyway.   I tried to maintain a blog, but that lasted about a month due to my resource constraints, time and energy.
No one realizes how much work twins really are. It's not just double the work, it's an exponential amount more than having one kid. Fortunately, Mama Bear and I shared the workload 50/50 as much as possible based on our availability and our personal resources. The irony is that the time flies by even though the moments seem to drag on.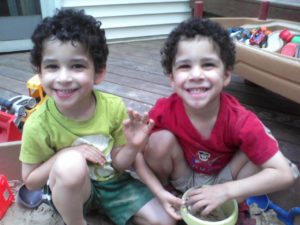 As the little buggers got older and more independent, time and energy somehow found their way back into our lives. The pics and video quantities remained consistent though. But, now, I was freed up to begin sharing some pics on, primarily, Facebook.
Facebook is great, no doubt about it. It is what it is. But, it is also not totally secure. I could have set up a private group on FB, but that would consume what meager resources I did have available and, realistically, not everybody has the wherewithal to use FB. No computer, no time, no tech capability.
We live just north of NYC, not close to any friends or relatives or where we grew up. Sharing our boy's growth and development was something our friends and relatives, who were far away, wanted to be aware of and be a part of as much as possible. Twins run in my family and everybody was curious and interested, in a loving way, of course.
Overshare with the people who care!
I was referred to Tinybeans by a friend of mine and I thought I would check it out. Tinybeans helps parents share their amazing pics, videos and stories of their kids in a safe and private place OFF social network sites.
Let's face it. There is a plethora of social network sites for everything. You can use FB for personal stuff, Instagram for pics, LinkedIn for professional displays and Twitter which is like a conversation on the 21st century ham radio.There is a social site for everything these days. You use Facebook for personal, Linkedin for professional, Instagram for your pictures, Twitter is a conversation over the 21st century ham radio… but what about for our family? Well, that is where Tinybeans comes in!
Tinybeans is the perfect solution for everything I was looking for. It is private, secure and by invite only.
To date, over 70 million (yes, that's MILLION) moments have been shared, and viewed privately, by people all around the globe.
Did I say it's FREE?
Tinybeans is free to download their apps (which by the way are available in either IOS or Android) and to use their website.
Here is the link for the IOS app: IOS link
Here is the link for the Droid app: Droid link
And, here is the link for the Amazon app: Amazon link
They do have a premium version with additional features, and there is a cost attached to creating your beautiful photo books, but they do not charge you, or your "Nurture Network", to upload moments or access your photos.
And you own your photos!
The option does exist for sharing on Facebook, if you so choose. However, your pics will be available to the public there, but they will remain private on Tinybeans.

Your followers will each receive their own log in details so they can see your Tinybeans Journal. Tinybeans will also send them one daily update on the days you add moments to your journal and they can decide how often they receive emails from them and change their settings accordingly.
Here are what some users are saying:
"The most loving space on the Internet"
– New York Magazine
"It is the easiest way to journal and now I never miss a thing. I feel like supermom!"
– Katie, USA
"Tinybeans is the highlight of our parents' day. They all love receiving updates on their granddaughter."
– Paul, New Zealand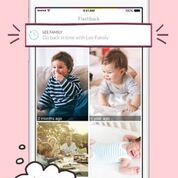 Those are all awesome features which would have come in handy when the boys were smaller. Nevertheless, I do have an opportunity to create and share videos of them, which they are very eager to do, and share them with family and friends who are far away without the risk of social media attention. This is completely acceptable to Mama Bear.
Tinybeans is the perfect balance of security for us and the little buggers and privacy for our family and friends.
And it would be the perfect place to share my pic of them in the bathtub when they were three. Just enough exposure to keep the leashes of obedience and submission intact!
It's a win-win!
I was financially compensated for this blog post.  #ad #sponsored