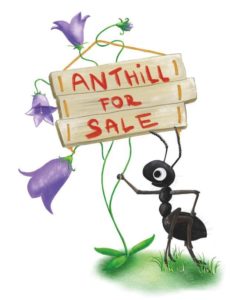 I read childrens' books.  I used to read them to my sons.  Well, let me clarify that.  I still read to them, but as they've gotten older, their tastes have changed naturally.  I no longer read childrens' picture books to them.  Now that I'm a childrens' book writer (primarily chapter books), I still read a lot of childrens' books of all types, including picture books.
Anyway, I just read "Anthill for Sale" by the very talented Johnny Ray Moore, illustrated by the gifted  Zuzana Svobodova and  published by the award-winning publisher of children's picture books, Big Belly Book Co.  
In a word, delightful!  I really liked it.  Even though it is a picture book, it has a very sweet story with a message to it.  The illustrations complemented the story brilliantly.   The story had many interesting and diverse characters so it was entertaining.
"Anthill for Sale" is about an ant called Alvin who decides to sell the family home, an anthill
However, Alvin's family home is filled with fond memories.  He has a list of potential buyers, but the only problem is that they want to change everything about Alvin's home.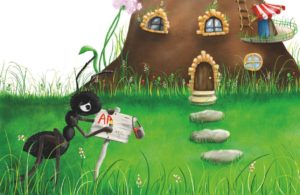 After remembering all the good memories Alvin and his family have had in the Anthill, Alvin has a change of heart and now must convince his wife that this is still the perfect home for them.  
You can buy this book now at Big Belly Book Co's website (with a 10% discount now through the end of November 2018) by clicking here: Big Belly Book Co.
Or through Amazon: Anthill for Sale on Amazon
Enjoy!
Jeff
@DaddyisBest