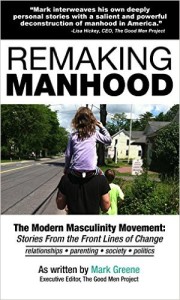 Mark Greene takes the subject of changing and evolving masculinity out of any academic classroom and puts it squarely into the laps of those in the trenches of the evolution. He uses his own damaged childhood and adolescence as prime reflectors of what masculinity used to be and how it shaped him and many others. But, Mark doesn't stop there. How can he? Why should he?
Masculinity is a multi-faceted diamond. Looking at one aspect of it for too long, one could lose the overall brilliance of the gem. Mark writes about the loss of touch and intimacy for boys and men, painful initiations and rituals into manhood, shame and its consequences on men, the presence and future of raising boys, men as providers, sensitivity for men and boys, the suppression of male issues and more.
Women are not forgotten either as Mark addresses the failing of some women's perceptions of men. I have read some of these chapters as articles on the Good Men Project and I have come to highly respect Mark and I can identify with his writing. Mark is not only reflecting on masculinity, he is urgently calling for a discussion on its future.
Here is the link to his FaceBook page: https://www.facebook.com/remakingmanhood
Here is the link to his own webpage for his book:
The book is also available on Amazon.